Community Showers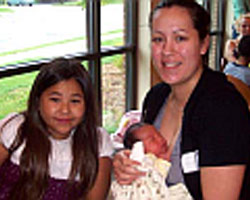 Our 10th Annual Community Baby Shower continues with corporate partner Slumberland Furniture, media partner, WISC-TV-Channel 3 Time For Kids, community partners, Junior League of Madison, Mocha Moms Inc. and our partnership with Nurses from the Madison and Dane County Health Department. In addition, University Hospital and Clinic Foundation provides financial support.
As increasing numbers are being affected by the economic decline, the need for support and resources is also escalating. To meet this demand, two community showers will be held in 2009, in the spring and the fall. To further serve the community, the showers will be held in 2 different locations in east and south Madison.
An appeal to the community brings donations of new and gently used items to both Slumberland Furniture Stores, East and West. WISC-TV, Channel 3 provides media coverage and public service announcements designed to gather support for donations of items. The Junior League of Madison and community parents greet and thank people for their generosity at each location.
In addition, several businesses and organizations are being approached to hold internal drives for baby items. Display boards and information is provided to these sites to help encourage and facilitate donations. Community volunteers provide clerical support, while coordination and supervision of volunteers, as well as the overall planning and implementation of the Community Baby Showers is handled by Project Coordinators who are volunteers and in leadership positions with Today Not Tomorrow, Inc. There are no paid staff involved in this event.
Media coverage encourages viewers to contact Today Not Tomorrow, Inc. for placement on the invitation list. Additionally, family serving agencies, clinics, and the collaborating partners in the Harambee Center (HeadStart, South Madison Public Library, Access Community Health Center and the City of Madison and Dane County Public Health Department) are allocated a specific number of slots for their constituencies. They record appropriate information on grids that become invitation lists and guides for what should be placed in individualized gift bags.
Volunteers sort items and create gift bags for parents who receive an invitation to the shower, which becomes their ticket into the event. Through the two showers, 100 to 125 pregnant women or parents of children ages infants through 12 months old are treated to an actual baby shower complete with educational presentations and games on topics such as pre-natal care, breastfeeding, early brain development and bonding and attachment.
The Resource Fair which will be held at both showers, provides information about resources in this community for families with young children. Parents are able to talk with Fair participants and receive giveaways and important information about services and programs in the community.
Other families who do not attend the Baby Shower will have access to gift bags generated from donations received from the community. Referrals come from churches, social workers and others. Volunteers make arrangements for delivery of these items. A log is kept so that these families can be contacted about the summer and winter parent / child activities sponsored by Today Not Tomorrow, Inc. Although any family is eligible to attend the shower, most of the attendees are low-income women who are in need of baby items.

A study, ("Parent Education Outcomes") conducted by Joy First, University of Wisconsin, 1993 made the following observation and statement about parent activities and access to information:

"In this study, the outcomes led the participants to make major changes in their lives and in the lives of their children. These transformative changes can ultimately lead parents to take control in many areas of their lives besides parenting…"

In addition, evaluations of activities that include educational components such as those that are part of the Community Baby Shower, indicate that parents leave with increased understanding about child management skills, normal development and they seek additional information.