B.A.B.Y. (Boosting Activities for Babies and Youth) Olympics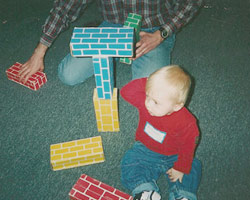 B.A.B.Y Olympics provides opportunities for parents and other caregivers to engage in fun play activities with their babies and young children while learning about the impact those activities can have on the brain, social/ emotional and physical development, as well as physical health of their children.
A CDC study released in April 0f 2009 indicates that 18.4% of 4 year olds in the USA are obese and that children of color are at a higher risk of obesity. The study also indicates that socioeconomic status and lifestyle factors play a major role in childhood obesity. B.A.B.Y. Olympics also provides parents and other caregivers with information about how to prevent obesity.
B.A.B.Y. Olympics 2010 will be held Saturday, April 17, 2010, at the Lussier Community Education Center, 55 N. Gammon Rd. 9:30 to 12 noon, and will be open to families with children, infants through early elementary school age.
Activity stations will be set up according to age appropriateness. Each activity station will have a sign explaining how that activity is good for physical health and will promote healthy brain development.
Featured activity areas will be a dance and movement corner - Sponsored by Q106 with special guest, Bossy the "Q" COW; a gymnastics and tumbling corner - Sponsored by Badger Gymanstics; a bubble corner - Sponsored by La Petite Academy; a reading corner - Sponsored by media specialist/storyteller, Bill Breitsprecher and an infant area with activities specific to infants up to 9 months of age.
In addition to the featured areas, there will be activites such as puzzle making, blocks, shape sorters,as well as large-muscle activities such as crawl-a-thon, jumping robe, bean bag toss and ballon-ball.
Olympic participants will move through the stations at their own pace, receiving assistance whenever needed. An event booklet will offer additional explanations to the activities and provide a place for the caregivers to write notes about the activities they did.
In addition to the activity stations there will be an information fair of resources available to parents and other caregivers in the community.
For A listing of B.A.B.Y. Olympic sponsors, see our Partners page .

To receive more information on participation or how to donate to B.A.B.Y. Olympics Click Here.
To volunteer at B.A.B.Y. Olympics Click Here.